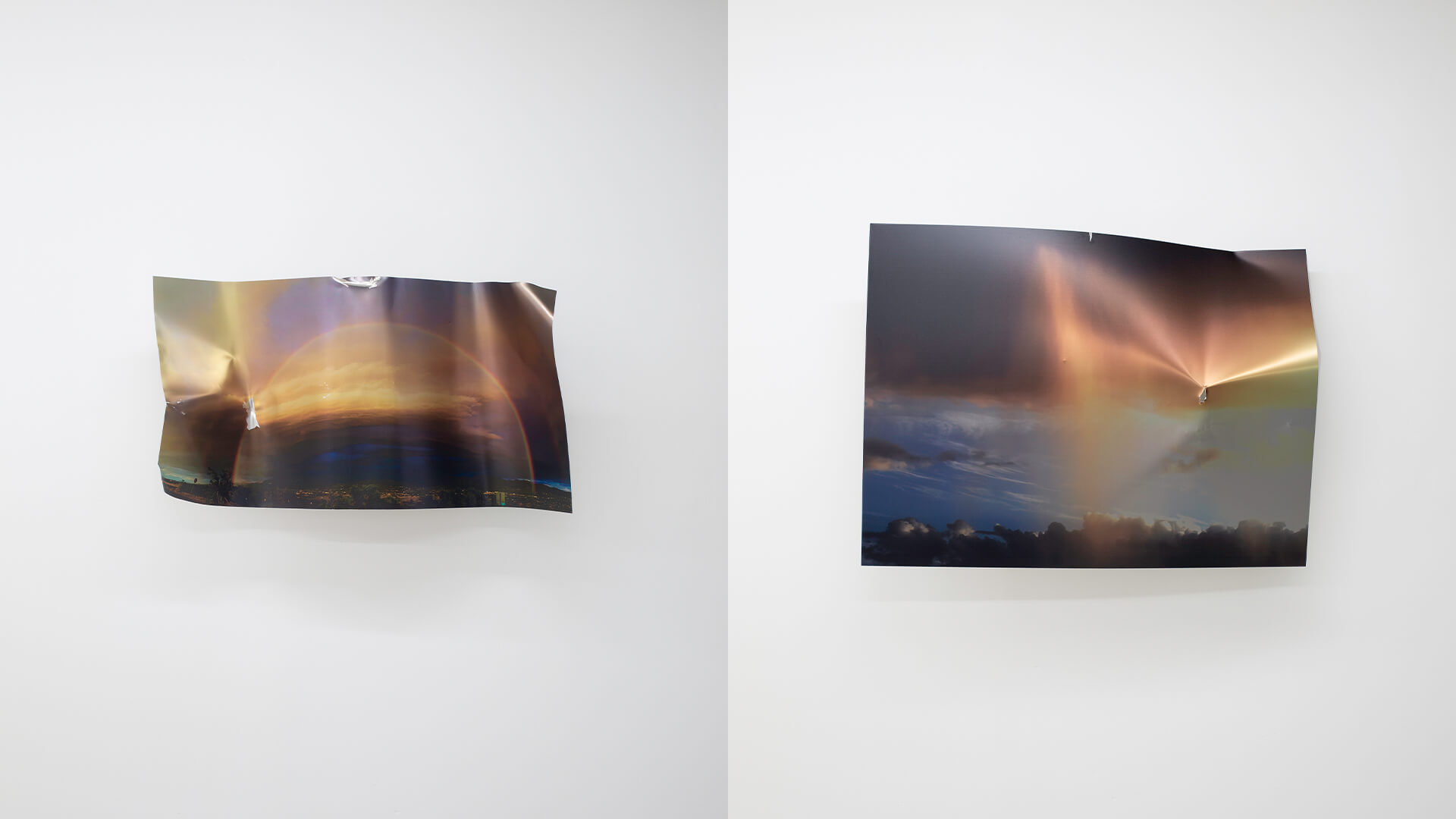 Samuel Marion
Griefing
April 28 - June 11, 2022



Now I know again,
That I was the summer guest. I was also the prisoner,
The pig
And the butcher,
And I promenaded along Under the parasol
—Christoph Ransmayr, Resplendent Decline

Estrella presents Samuel Marion's first exhibition with the gallery, Griefing. The exhibition opens on April 28th, 2022, and remains on view through June 1st.

"Griefing," a term popularized by the video game Minecraft, refers to the deliberate destruction of property belonging to one's own team. Players known as Griefers are common within sandbox games that revolve around world-building, cooperative property stewardship, and self-governance.

Entering the gallery, one confronts an installation of 55 identically scaled paintings spawned indiscriminately throughout the space. Hinting at a sweeping scope of visual identities, the paintings seem to confuse their content for form: ultimately alienating the meaning of their shared utterance of the phrase "The Extremists" from one of provocation to complacency.

Occupying the second room are five landscape images UV printed on disfigured aluminum. In these works, Marion appropriates photographs produced by a former member of the 1970s militant leftist organization The Weather Underground. Long since the group's disintegration in 1979, the author of the images, now living under a pseudonym, has become an avid hobby landscape photographer, favoring compositions that depict excessively idyllic depictions of the American West. Rendered with a sentimentality that borders on the saccharine, these landscapes serve as a haunted expression of foreclosed utopian ambition: "What could have been"

manages to seep through images that seem all but a celebration of "what is."

Expanding upon explorations in both moral economics and the pastoral, Marion utilizes both as a metonym for what could be considered the "knowledge of freedom." Rather than posit a practical position on its source material, the exhibition proceeds as an aesthetic exploration of when acceptance becomes imbricated in belief.

Following the exhibition's opening, a companion text, Poets, Other Assorted Losers, will be freely available at the gallery.
—Emma Pordige

Samuel Marion (b. 1997, Salida, Colorado) lives and works in New York, NY Recent exhibitions include Ours presented by the New Museum, New York, NY, and Equator at Estrella Gallery, New York, NY


Angelica Ballesteros
Estimulación
April 28 - June 24, 2022



Art has the capacity not only to reflect and mystify power but also to reflect on and make
use of powerlessness.
—Sianne Ngai

Estrella Gallery is honored to present Angelica Ballesteros' first presentation in New York City, Estimulación.

Ballesteros has inserted an exhibition of five sculptures and a painting into Estrella's exhibition Apocalypse, Now. Estimulación activates through an opening on April 14, 2022, around the primary show. Its parts are then available for purchase. Estimulación exists as long as "Apocalypse, Now." exists, with both closing on April 24, 2022.

Estimulación continues Ballesteros's practice of quick-paced and unlikely interventions, which use and distort the language of commercial art exhibitions. Ballesteros creates galleries in hummer limousines, banquet halls, space pods, roadside altars, and demolished plazas. They exist in the "peripheral," not out of relegation but by active choice. The essential qualities of the interventions are 1. distinct curatorial explorations, 2. their role as temporary commercial enterprises; during their existence, they perform to sell Art.

Ballestero's interventions pose a foil to making Art for online distribution. They can only exist in spectacle, forcing people to perform to experience and buy Art. The interventions consider questions posed by Andrea Fraser and Bernadette Corporation in the nineties for the realities of a generation born into the internet and E-commerce.

Can a physical exhibition be DIY if the dominant method of selling Art is through online communication?

Angelica Ballasteros b.1994 Hermosillo, Mexico.
Based in Mexico City. Ballesteros is also known for her musical work as Meth Math.



Danica Barboza, Daniel Boccato, Kane Huynh, Andrea Fourchy, Ignacio Gatica, Max Popov, John Roebas, Andrea Smith, Ann Zhao
Apocalypse, Now
March 19 - April 24, 2022



What are the girls thinking of? At least half are nostalgic for death, and for a temple, and for all of those clothes.
—Fleur Jaeggy

He became certain things were better with a dose of the apocalypse when he turned five. That year he discovered murder, suicide, and death. Murder, when he let go of my three-month-old Pickachu ballon, not realizing he would never come back. Suicide when he pressed the face of my teddy bear onto the side of a wood stove to see what would happen to him. And death when Patricio died from liver cancer. The possibility of deliverance from life became a preoccupation. Still, it wasn't till one faithful day in catechesis when he discovered the apocalypse that he fell in love with death. It is only in the apocalypse that we don't die alone. It is the most incredible privilege to die together, even if it is in flames.

When we have lived out our years together, may the same hour carry us off so that neither may I see the pyre of my wife nor may she entomb me?
—Ovid, Baucis, and Philemon

Njari Anderson, Benjamín Cieza Hurtado, Aureliano Alvarado Faesler, Jose Eduardo Barajas, Yasmin Kaytmaz, Aspen Kincaid, Vincent Larouche, Samuel Marion, Andy Medina, Maureen Muse, Lilith Soros, Theadora Sutherland, Ann Zhao
Equator
January 23 - March 15, 2022



The past cannot be forgotten, the present cannot be remembered.
—Mark Fisher

Equator opens at Estrella this January 13th. The Exhibition brings together thirteen young artists from across the Americas to New York City.

Equator is named for the equatorial line. The line at the center of the Americas reflects Estrella Gallery's mission to exhibit artists from North and South America.

Equator is based on ideas of hauntology, duration, lost futures, covidian aesthetics and a preoccupation with time.

ESTRELLA
An All Americas Gallery

273 Grand Street, 3rd Floor
New York, NY 10002

Wednesday through Saturday, 12 – 6pm, and by appointment
Free and open to the public

Info@EstrellaGallery.com
+1 561 573 9390

Estrella opened in New York in 2021 to foster Intra American artistic dialogue, exhibiting artists based in New York City alongside artists from Latin America, Canada, and the Caribbean.

Marco Estrella
Owner

Treat Swarstad
Design Direction